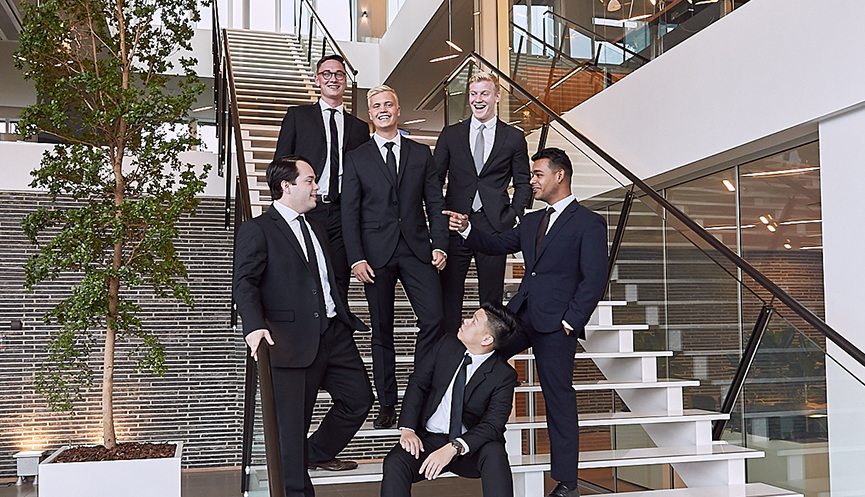 Does financial markets, physical commodities and an international scope sound interesting to you? Would you like a career that combines hands-on experience at our offices around the world with an education in the oil and shipping industry?
Job description
As a Monjasa Oil & Shipping Trainee (MOST) in the Contract Management team, you will join a global two-year programme that combines hands-on experience with in-depth industry knowledge. The Contract Management team handle hedging & execution of fixed priced contracts, strategic sourcing agreements, analysis of market developments and act as sparring partners with experienced bunker traders. You will be introduced to how the oil and fuel/gasoil markets work and how hedging can be used as a commercial tool to lower risk exposure. The team is characterised by proactivity, experience, passion for the industry and not least, tons of one of our values 'Smile & Joy'.
The position is based at our Copenhagen office located in Tuborg Harbour, the heart of Shipping in Scandinavia. The office oozes of a good atmosphere and we highly value our colleagues and always find time to enjoy each other in a cosy and relaxed atmosphere.
You will be part of global rotations across our Monjasa offices such as Dubai and Cyprus, which will help improve your understanding of different business contexts and cultures. Your knowledge of our business areas will gradually develop, and you will build your hands-on experience day by day. You will gain further oil and shipping knowledge through the Commercial Shipping Programme with the Danish Shipping Academy in Denmark and Monjasa Academy will take you through plenty of internal training as well.
The adventure is kicked off in Denmark in September 2020 with a mix of school, teambuilding activities and internal education. You will also be part of our extensive onboarding programme, where you will be introduced to our business and meet many of your new colleagues.
Your main areas of focus
Handle internal standard requests and quote directly to the Bunker Traders
Act as the go to person for Bunker Traders with requests for contractual business floating/fixed
Purchase physical and unwind hedges towards derivatives trading
Price incoming requests for fixed price contracts and floating contracts
Assist on tenders
Ensure all administration regarding Contract Management, including development and maintenance of systems (NAV17)
Analyse pricing structures in physical fuel markets around the world
Support on negotiating strategic sourcing agreements
Your professional competencies
You hold a Bachelor's degree e.g. BSc in International Shipping and Trade
Fluent in written/oral English, a second language can be an advantage
IT proficient – experienced in MS-office
Your personal competencies
Your personal qualifications and your attitude towards performance in a corporate context are just as important. You consider yourself to be forthcoming, curious and persevering, and you reflect yourself in our core values of Respect, Ambition, Curiosity and Smile & Joy.
Hear what the Trainees have to say about the programme here.
Monjasa as a workplace
Monjasa offers you a fulfilling career in a global organisation, where you will be part of a dynamic and ambitious team. We enjoy great learning opportunities and are proud of our fantastic work environment. With "Monjasa means personal business" as the headline to our corporate purpose, this serves as the guiding principle for our business. You will also find that we live and breathe our values of Respect, Ambition, Curiosity and Smile & Joy. All four values and our corporate purpose are anchored in how we work together and reflect our company DNA.
Application
After the application deadline, we will select a number of candidates to invite for a recruitment event at one of our offices. After this event, we will invite the candidates with the best fit for a subsequent interview. If you would like to know more about this position or encounter any problems when uploading your application, please contact the recruitment team between 9am - 4pm CET at +45 76 317 290.
We encourage you to read much more about the company, the job application process and some good and valuable advice on how to best position yourself for the open job listing here.
We look forward to receiving your application no later than 16 February 2020.
In case you encounter any problems when uploading your application, please contact HR support Monday to Friday between 9am - 4pm CET on this number: +45 76 317 290.
Please refer to elevportalen.dk by application