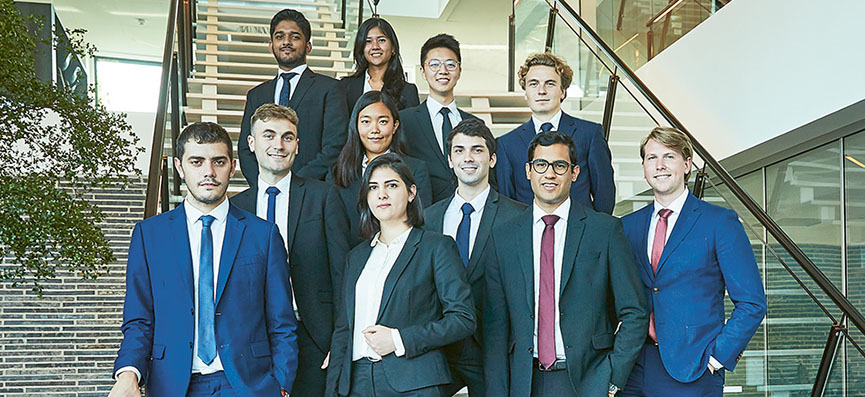 Would you like a career that takes you on an international adventure in the oil and shipping industry and one that combines hands-on experience with great learning opportunities? Do you aspire to navigate the complex markets of the future and sit amongst colleagues who share the belief that it must be fun to go to work?
Job description
As a Monjasa Oil & Shipping Trainee (MOST), you become part of a global two-year programme that offers exposure to key areas of our business and valuable insights into how we fuel global trade. You will be able to apply your learning and contribute to the performance of the team right away as Trader or Operator within Monjasa's core business.
You will be part of global rotations (2x3 months) across our Monjasa offices such as Singapore, Vietnam, Dubai, Denmark, Cyprus or Panama, which will give you a unique understanding of different business contexts and cultures. Your knowledge of our business areas will gradually develop, and your challenges and variety of tasks will similarly grow day by day. You will gain further shipping knowledge through the Commercial Shipping Programme with the Danish Shipping Academy in Denmark and Monjasa Academy will take you through plenty of internal training as well.

In every office, you can expect a supportive environment that oozes of family spirit, a multi-cultural vibe and a great atmosphere. This will give you a feeling of being home away from home when you are on your rotations. We also enjoy spending time together outside working hours, e.g. sports activities, gaming, watching a movie or wishing each other 'Happy Friday' at the bar.
The adventure is kicked off in Denmark in August 2021 with a mix of school, teambuilding activities and internal education. You will also be part of our extensive onboarding programme, where you will be introduced to all aspects of our business and meet many of your new colleagues.
As respectively Trader or Operator, your main focus areas are:
Areas of focus as Trader
Support our Trading department in all aspects of the Trader role
Research on potential customers and markets
Monitor oil prices and communicate to relevant stakeholders
Build up your own customer portfolio
Areas of focus as Operator
Support our Shipping department in all aspects of the Operator role
Coordinate and maintain the overview of bunker deliveries
Daily contact with the crew, suppliers and agents
Maintain and optimise the operation, movement and costs of our vessels
For both roles, the ideal competencies are:
Your professional competencies
You typically hold a Bachelor's degree. Alternative background could be a college education (HHX in Denmark) or similar with extracurricular experiences from travel, military, work, living abroad or similar
Excellent written/oral English skills, a third language can be an advantage
IT proficient – experienced in MS-office
Your personal competenciesYour personal qualifications and your attitude towards performance in a corporate context are just as important. You consider yourself to be forthcoming, curious and persevering, and you reflect yourself in our core values of Respect, Ambition, Curiosity and Smile & Joy.
Hear what the Trainees have to say about the programme here.
Monjasa as a workplace
Monjasa offers you a fulfilling career in a global organisation, where you will be part of a dynamic and ambitious team. We enjoy great learning opportunities and are proud of our fantastic work environment. With "Monjasa means personal business" as the headline to our corporate purpose, this serves as the guiding principle for our business. You will also find that we live and breathe our values of Respect, Ambition, Curiosity and Smile & Joy. All four values and our corporate purpose are anchored in how we work together and reflect our company DNA.
Application
After the application deadline, we will select a number of candidates to invite for a recruitment event at one of our offices. After this event, we will invite the candidates with the best fit for a subsequent interview. If you would like to know more about this position or encounter any problems when uploading your application, please contact the recruitment team between 9am - 4pm CET at +45 76 317 290.
We encourage you to read much more about the company, the job application process and some good and valuable advice on how to best position yourself for the open job listing here.
We look forward to receiving your application no later than 28 February 2021.
Please refer to elevportalen.dk by application