At Chr. Hansen, we are looking for an ambitious laboratory technician student in the Department of Dairy Bioprotection, being part of our Food Cultures and Enzymes Division in Hørsholm. We are working with food cultures with bioprotective effect as a natural way to reduce microbial spoilage and increase the safety of dairy products. Reduction of food waste and cleaner dairy products are just some of the targets we are working on.
The department of Dairy Bioprotection plays an important role in the development of new food cultures with bioprotective effect as well as the successful implementation of these food cultures at dairies world-wide. We work in modern office and lab facilities as well as in our dairy application technology center.
An internship period focusing on microbiology and dairy
During your internship you will be part of the Department of Dairy Bioprotection, and tasks are often solved in close collaboration with other application or research departments or in project teams that work across different departments. You will therefore be able to acquire a broad range of competences during your internship.
Some of the key competences you will develop include:
Microbiological analyses of yeasts, molds and listeria as well as enumerations in model systems or real dairy products
Production of yogurt and other fermented dairy products in our dairy application technology center (3-30 L batch scale)
Analyses of dairy products, with respect of sensory, acidity, texture, metabolites etc.

Planning, conducting, concluding and reporting on experiments conducted in the lab or dairy application technology center

Reporting in ELN (Electronic Laboratory Notebook)

Feedback and evaluation of conducted experiments in collaboration with the relevant scientist
Who are we looking for?
We expect that you have finalized the theoretical part of your education as laboratory technician in order to start up the internship from February 1st, 2022. It is important that you are engaged and interested in microbiology and food productions, and on a more personal level, that you find joy in driving things on your own while being part of a strong team. This position requires that you can communicate with many different people and stakeholders of different nationalities, and a good level of English is therefore needed, both written and oral.
The team for you to join?
You will be part of a team of approx. 14 competent and engaged colleagues, both scientists and technicians. We work together with a high level of knowledge sharing and collaboration. Our work culture is innovative and open-minded, and diversity & inclusion are key.
Information and Application
If you are interested in this position and have questions, you are welcome to contact Director Tina Hornbæk at +45 22 84 80 01.
Deadline for applications is 29th of September 2021.
Do you know someone?
If it is not the job for you, but perhaps you know someone who might fit and be interested, please share this job link to him/her. Thank you for your referral.
Venligst henvis til elevportalen.dk ved ansøgning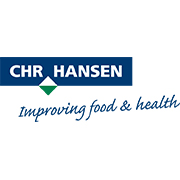 ---
Sted
Chr. Hansen
Bøge Alle 10
2970 Hørsholm
Praktisk
Ansøgningsfrist: 29. september 2021
Tiltrædelse: 1. februar 2022
Kontakt
Tina Hornbæk
tlf: +45 22 84 80 01
---
---