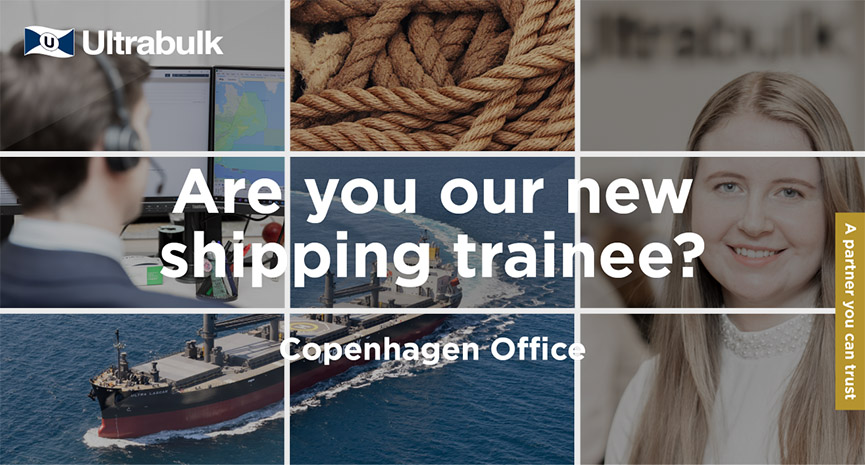 Shipping Trainee, Copenhagen Office
Build a Career in International Shipping
Are you looking for an exciting opportunity to enter the shipping world? Ultrabulk A/S is looking for its next ambitious Shipping Trainees! When joining the Ultra family, you join an international organisation with offices in 7 different countries. We offer a fast-paced environment with the spirit of a family-owned organisation, creating the best learning environment for our young talents.
The Ultrabulk Trainee Programme
commencing on 1 September 2022 at our Copenhagen office.
As a trainee in Ultrabulk, you will follow the theoretical training of the Danish Shipping Education at the Danish Shipping Academy with other Danish and international Shipping Trainees whilst applying your knowledge to your work at Ultrabulk.
Within the two years, you will gain hands-on experience and extensive knowledge about the main areas of shipping, for example chartering, operations and operations control. As a part of your training, you will join various departments and have a mentor dedicated to you with each new team. During the two years, you may also have the opportunity to experience a period in one of our 7 overseas offices. Most importantly, you will join a company where we believe learning and working should be fun!
Chartering Executive, Sophia Sander-Bjerge who completed her traineeship this year, shares her experiences: "As a daughter of a former captain, I have always been interested in the maritime sector. The first time I heard specifically about shipping, I knew what I wanted to do with my future. Shipping is not a job, it's a lifestyle. No two days are alike, but every day includes contact with people from all over the world where decisions have to be made while the supply and demand for ships and cargos are constantly changing. Since joining Ultrabulk's trainee programme, I have learned something new every day and been in contact with people from all over the world since the first day I started."
In Ultrabulk, we are convinced that a positive working environment requires an excellent social atmosphere across departments and units. As a trainee in Ultrabulk, you have the opportunity to participate in various social events and sports activities planned throughout the year.
Education and Competencies
We expect that you have/are:
Danish HHX or STX with mathematics on level B as a minimum or equivalent international diploma
Fluent in English, both verbally and in writing
Business acumen and an analytical mindset
Excellent social skills and a desire to contribute to a positive atmosphere
An open-minded approach and team player attitude International experience through work or studies.
You might also have a BSc in International Shipping and Trade, Maritime Studies or another relevant bachelor's degree, though this is not a requirement.
Application deadline is 16 January 2022
We start reviewing the applications after the deadline. The recruitment process will take place during January and early February.
Once you have completed the Trainee Programme:
Upon successful completion of a traineeship in Ultrabulk, you will be provided with:
A great start to your career in shipping within a company that keeps a strong focus on your continuous development both personally and professionally
Profound knowledge of the shipping industry, both theoretically and hands-on
A network of highly professional and motivated colleagues and peers International working experience
An opportunity for tenure in one of our 7 offices across the globe
Practical experience with all aspects of shipping supplemented with participation in tailored courses.
Further information about the Danish Shipping Education at the Danish Shipping Academy is available here and you are welcome to contact Assistant HR Business Partner, Esther Weirum Schmidt for questions about the Ultrabulk Trainee Programme at hr@ultranav.dk or +45 3997 0503.
Please refer to elevportalen.dk when applying.