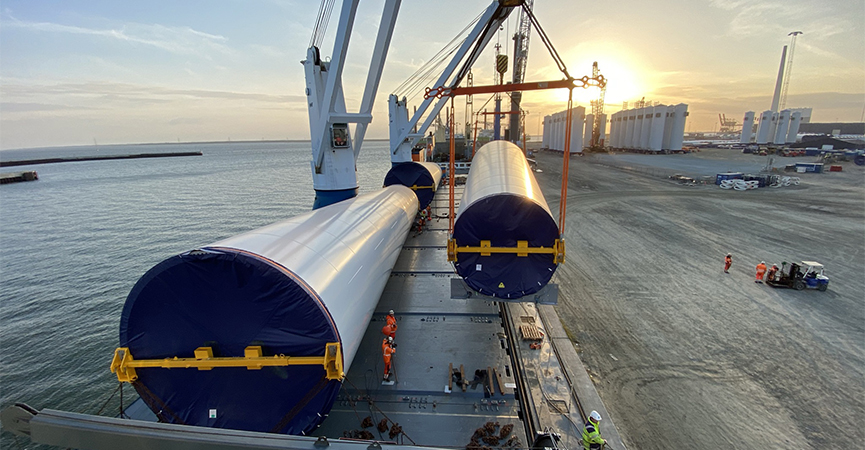 Are you looking for a challenging education in an international environment working with oversized and heavy project cargo? If so, you may just be the person we are looking for.
At Martin Bencher, a project logistics specialist, we are looking for a new trainee to join our young and dynamic team of Freight Forwarders and Project Managers.
Job description
You will become part of the Wind & Renewable Team at the Martin Bencher global Headquarter in Aarhus. In your daily work you will be part of the team servicing our portfolio of Danish and International customers and you will be communicating with colleagues, shipping lines and agents across the Globe. Our speciality is handling and executing transport of oversized and heavy cargoes such as for example Wind Turbines, Structures for Offshore, industrial machines and all related equipment. This means the job in Martin Bencher is very diverse and involves coordinating anything from single containers to oversized freight and heavy project cargo over the oceans, roads, rails and through the air. It is part of the job to attend vessel loading operations, travel to job sites and customer meetings around the world.
Your 2 years traineeship will be a combination of practical and theoretical learning. The practical part will be the daily work and the theoretical part of the education will take place at Aarhus Business College, where you will be introduced to subjects such as:
Freight forwarding business in general
Introduction to various modes of transport and cargo types
International transport law and conventions
Insurances
Sales & service in freight forwarding – and lots more
Qualifications
It is a requirement to successfully having passed HHX, EUX or STX/HTX including 5 weeks EUD before commencing the traineeship.
You are ambitious, motivated and naturally take responsibility. You are a team player who thrive in a fast-paced environment and enjoy interacting and communicating with people of different cultural backgrounds around the world. You take pride in delivering high quality customer service and results and you possess a great deal of business acumen. Your English skills are great orally as well as in writing. Knowing more languages as well as good IT skills are appreciated.
What we offer
You are offered a unique opportunity to become part of a highly specialized project logistics expert. At Martin Bencher we celebrate initiative, team effort, and innovative thinking. We act with Integrity and Respect for others and the environment.
Our trainees are trusted colleagues who are given a great deal of responsibility and play an important role in our team. You will be working with all transport modes, travelling locally and abroad and you will gain great geographical and cultural understanding through the daily contact with our global stakeholders. It is our ambition to develop world class project forwarders who will help us drive the continuous and future success of Martin Bencher.
Please apply at your earliest convenience. We do not have an application deadline but accept applications as long as the job is posted. The position will be closed once we have found the right candidate.
Please send your application (in English or Danish) to:
Daniel M. Kjaer
General Manager, Wind & Renewables
+45 92 82 13 40
daniel.kjaer@martin-bencher.com